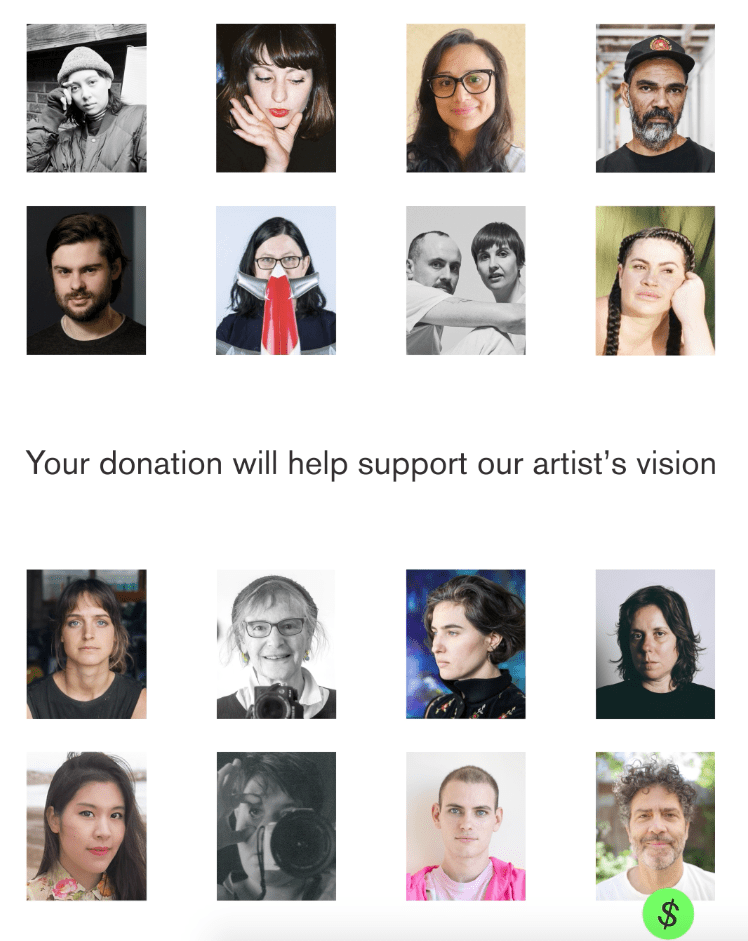 Your donation will help support our artist's vision. Help support CCP in 2022 — Donate Now.
CCP is committed to amplifying the voices, ideas, and actions of the artists we work with. We are dedicated to presenting the best photographic practice and sharing its understanding to our communities here in Melbourne and around Australia. CCP invites you to help celebrate our 36th year as we bring our home in Fitzroy to life and produce a historic year of world-class photography.
With your support, we are an organisation that is strong, resourceful, and able to adapt. We will continue to uphold the standard of programming and community engagement for which CCP is renowned.
CCP receives 30% of operational funding through government programs, leaving it to generate 70% of funds annually. Every donation makes an impact. A gift of $500 directly supports the payment of artist fees to produce new and ambitious works, while $150 helps develop public programs that are responsive to our artists.
CCP is a deductible gift recipient, meaning any donation in excess of $2 is tax deductible.
Donations
Please use our online shop to make a donation using your credit card. Your support is greatly appreciated.
If you prefer not to use our online shop, or would like to donate to CCP via cheque, please download the CCP Donation Form and return it to CCP, or call 03 9417 1549. Your support is greatly appreciated.
CCP Circle of Supporters
We invite you to join our inner circle of supporters through a $1,000 donation. Our circle will meet regularly to explore our program, engage directly with our artists, and reconnect following their CCP exhibitions to celebrate their progression.
Thanks to those who have joined the CCP Circle of Supporters:
Besen Family Foundation
Lovell Chen Pty Ltd
Ellen Koshland
Krystyna Campbell-Pretty
Tim and Aimee Gurner
Tom Smyth
Catherine Pierce
DesignOffice
Judy Williams
Wild Women Do
Juliet Frizzell
Jane Grover
Karen Cusack
Morris Schwartz
Rosemary Simpson in honour of her grandfather CR Herschell