April 6 – 2 August, 2019
Zöe Croggon: Olga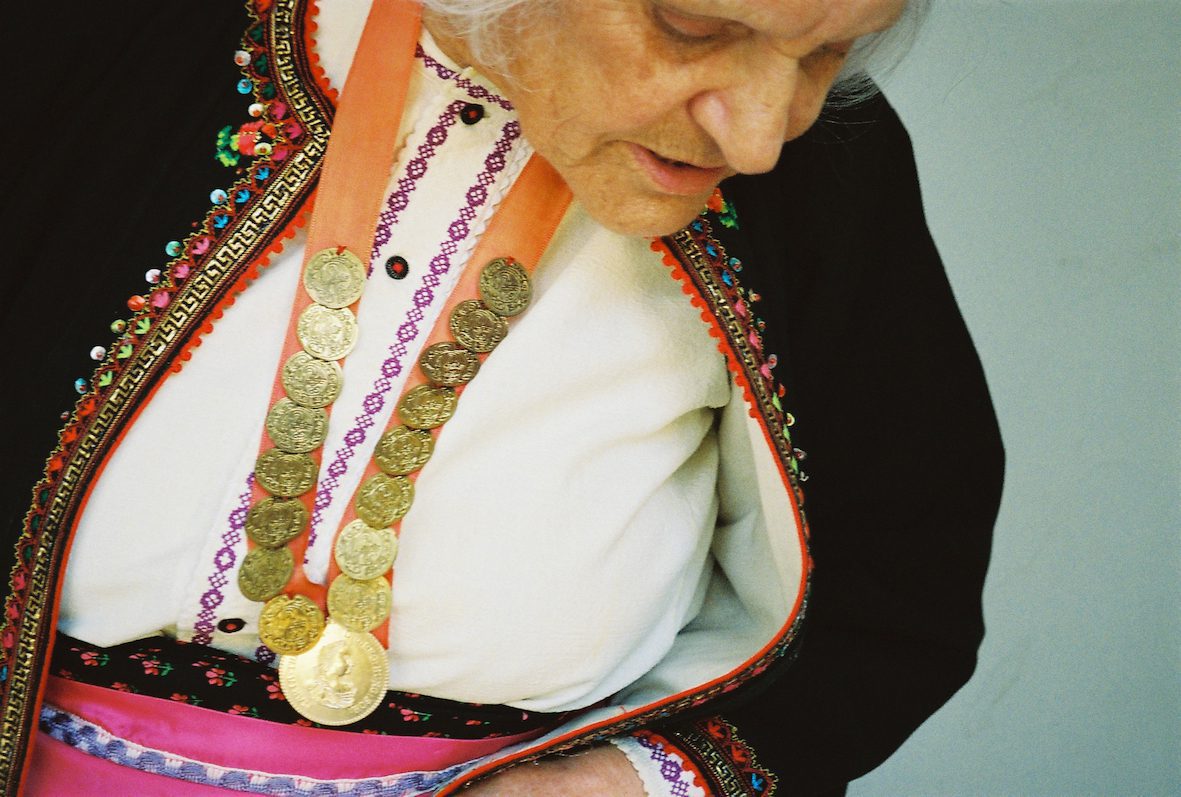 CCP is pleased to present Olga, a major video work by Melbourne-based artist Zoë Croggon, best known for her exquisite photo-collages that explore the body and its relationship to architectural space.
Olga is a meditation on the diffusion of cultural traditions expressed through dance, developed through intimate exchanges between Croggon and 88-year-old Ithacan folk dancer Olga Black. The video alternates between footage of Olga in her Melbourne home and in traditional folk costume, dancing to an a cappella rendition of the Rebetiko song Varka Mou Bogiatismeni (My Painted Boat). The song explores the heartache of departure from the Dodecanese Islands (a similar group of Greek islands to where Olga's parents were born, prior to immigrating to Australia), in which the singer appeals repeatedly to the Virgin Mary to comfort her broken heart.
Performing in front of a shrine embellished with religious and cultural icons (many depicting the Madonna), Olga dances, highlighting the Marian devotion in traditionally patriarchal cultures as a site for female expression.
Presenting an intimate portrait of Olga Black, this work considers the relationship between superstition, religion, and culture while continuing Croggon's long-standing interest in movement and performance.
Zoë Croggon graduated with a Bachelor of Fine Art (First Class Honours) from the Victorian College of the Arts in 2011. She has held solo exhibitions at the National Gallery of Victoria, Gertrude Contemporary, Peckham 24 (London), Mornington Peninsula Regional Gallery, Perth Centre for Photography, Daine Singer, and the Melbourne Art Fair, and has participated in group exhibitions at institutions including the Heide Museum of Modern Art, Art Gallery of New South Wales, Monash University Museum of Art, and Ian Potter Museum of Art.
Croggon is the recipient of an Art Gallery of New South Wales Studio Scholarship at the Cité Internationale des Arts, Paris (2018); Art + Australia / Credit Suisse Private Banking Contemporary Art Award (2014); the Asia-Pacific Photobook Prize (2015); and the ACACIA Art Award (2010). Her work is held in collections including the National Gallery of Australia, Art Gallery of New South Wales, National Gallery of Victoria, Monash University Museum of Art, Heide Museum of Modern Art, Horsham Regional Art Gallery, Gippsland Art Gallery, and Artbank. Zoë is represented by Daine Singer.
Olga Black was born in Melbourne in 1930 of Ithacan parents from the Greek Islands, and was dancing from an early age. As Olga states, "I was born dancing and want to die that way". Among her other jobs, she taught Migrant English classes and opened her own Greek Dancing School, the first in Melbourne, out of a desire to teach Greek dances to Greek Australians and the broader community. She visited Greece in 1959, and in 1972 went back for a short visit, but ended up staying for 18 years, teaching English and being a dancing member of Dora Stratou's well-known folk dancing theatre. She also participated as a volunteer in the Olympic Games of Melbourne in 1956, Sydney in 2000, Athens in 2004, and the Commonwealth Games in Melbourne in 2006. Olga now lives in Melbourne and takes an active interest in Greek Australian Community activities, in aspects of Brighton local history, and is planning to write her autobiography.