August 24 – 10 October, 2019
Rohan Hutchinson and Philip Samartzis: Polar Convergence
Rohan Hutchinson and Philip Samartzis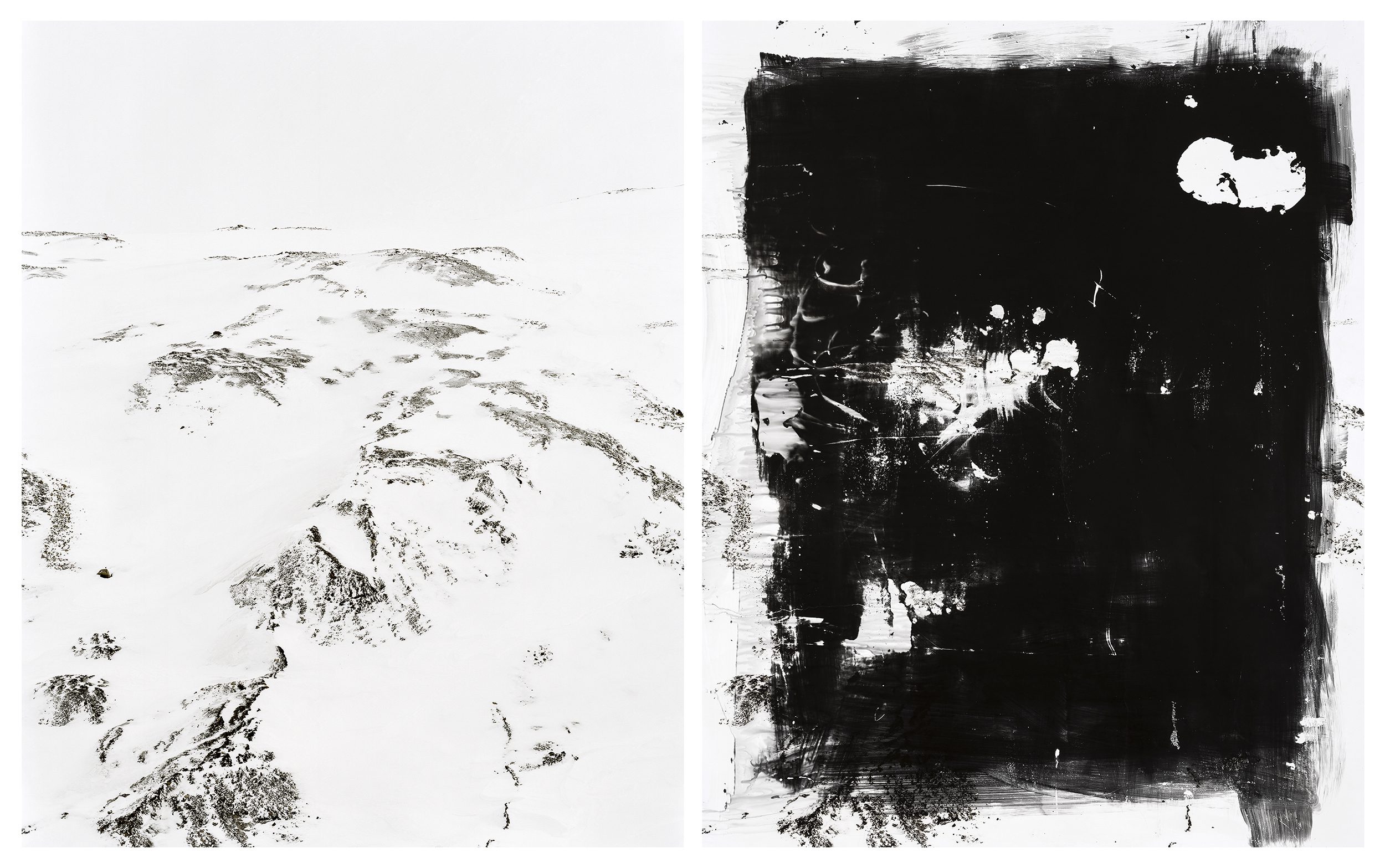 Polar Convergence is an exhibition of sound and image works in which the Arctic and Antarctic intersect to form a liminal world where time and space coalesce. Philip Samartzis focuses on the unheard sounds and spaces of the Antarctic continent where volatile weather and extreme climate collide with fragile ecologies and remote settlements. Rohan Hutchinson captures the atmospherics of the Arctic winter, transforming large scale pristine landscape images into violent, mutable abstractions. The two bodies of polar research combine to express the remarkable conditions informing cold climate environments operating at the margins of the planet. Samartzis's soundscapes present a spectral encounter of Antarctica by channelling natural, anthropogenic and geophysical forces, while Hutchinson's blackened landscapes provide a heightened sense of urgency necessary for the preservation of places unseen and unheard.
Blizzard at Jack's Hut in Eastern Antarctica, sound excerpt by Philip Samartzis
through restraining cables, sound excerpt by Philip Samartzis
Blizzard at Casey Station in Eastern Antarctica, sound excerpt by Philip Samartzis 
Rohan Hutchison

Rohan Hutchinson, Untitled 6 Part A + B , 2019. C-type prints, liquid light, exposure to Australian sun.
Rohan Hutchinson is a Melbourne-based photographic artist whose large format work questions the transformation of space and our relationship with the environment. He has participated in artist residency programs at Lethbridge University, Alberta, Canada, and the Centre for Art and Architecture, Kanazawa, Japan, with additional research trips to China, Thailand, Alaska and the Arctic. Hutchinson has designed and released several artist books, working with publishers such as the Velvet Cell (2017) and Perimeter Editions (2018). His books have been exhibited at Art Book fairs including Paris Photo LA, Off-print Paris, Off-print London, Unseen Amsterdam, New York, Tokyo, UAE, Melbourne and Sydney and has been shortlisted for the NGV Cornish Family Prize for Art and Design Publishing 2019, Libris Art-book of the year 2016, and Australian photo-book of the year 2016. His work features in collections globally, including the V&A Museum National Art Library (London), New York Public Library, Printed Matter Inc (New York), National Library of Australia, NGV Shaw Research Library, and the National Art Gallery of Canada Library.
Philip Samartzis

Sound recording on location by Philip Samartzis, courtesy the artist.
Philip Samartzis is an Associate Professor at RMIT University in the School of art. Philip researches the social and environmental transformations informing remote wilderness regions and their communities. His practice is based on deep fieldwork where he deploys complex sound recording technology to document natural, anthropogenic and geophysical forces within cold climate ecologies. Philip is the recipient of two Australian Antarctic Division Arts Fellowships (2009 and 2015), which he used to document the effects of extreme climate and weather events in Eastern Antarctica, Macquarie Island, and on the research vessel Aurora Australis. Philip is the co-founder and artistic director of the Bogong Centre for Sound Culture, which investigates the impact of climate change and industrialisation on alpine and sub alpine environments. The fieldwork component of this project has been supported by the Australian Antarctic Division, Australia Council for the Arts, the Bogong Centre for Sound Culture, Creative Victoria and the School of Art – RMIT University.