January 18 – 15 March, 2020
Cherine Fahd: Apókryphos
Supported by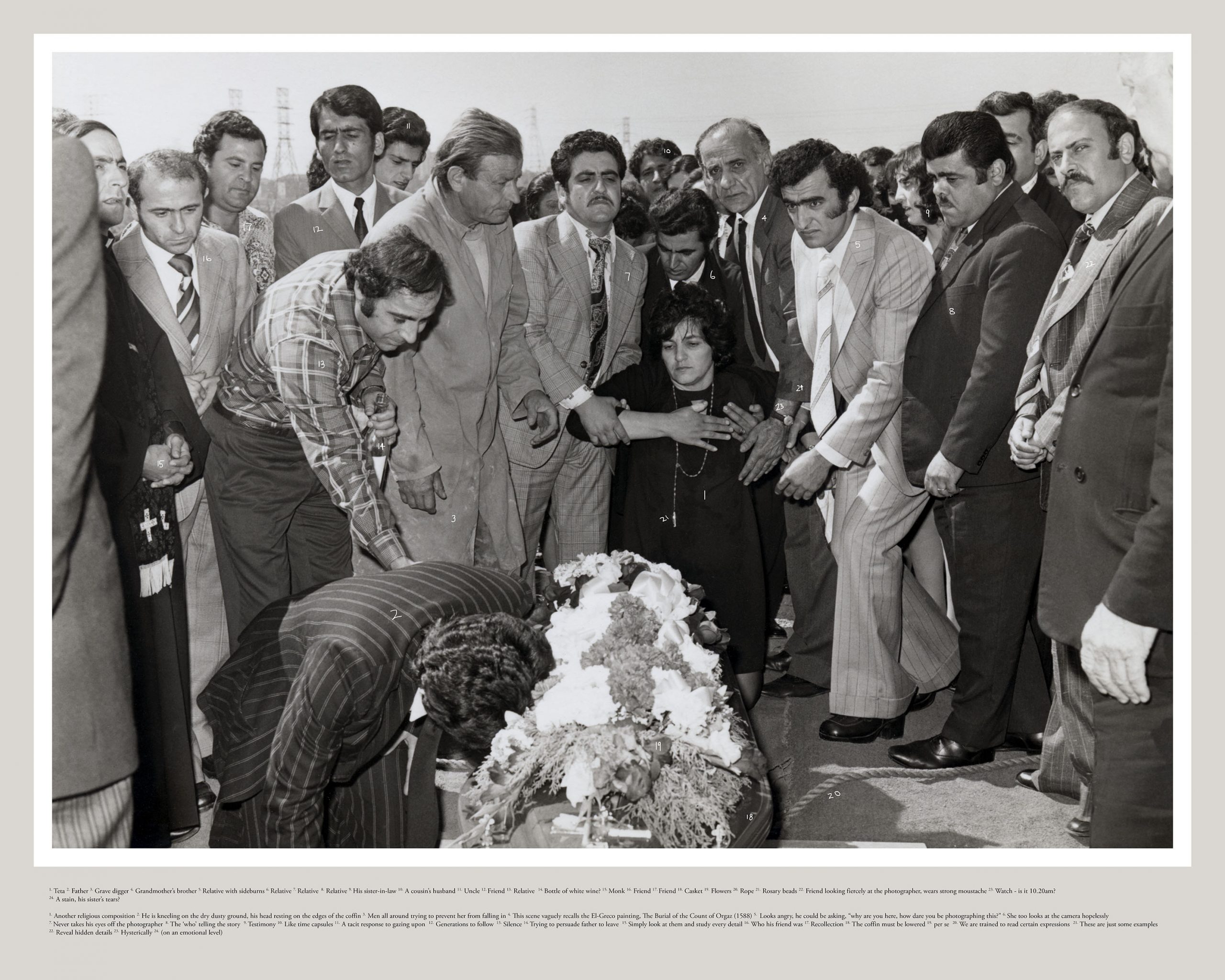 Apókryphos (2018–19) presents a series of 24 photographs reproduced from Cherine Fahd's family archive, depicting her Grandfather's funeral and burial in 1975, when the artist was only two years old. Taken by an unknown photographer, Fahd overlays these images with a numerical system of annotations and footnotes, forensically yet intimately speculating upon the mysteries of the event.
Derived from the Ancient Greek term apókryphos, meaning 'hidden, concealed or obscure', Fahd renders public that which is generally kept private: the grief of losing a loved one, and the transgressive act of documenting those who gather to mourn. Offering a visual and literary response to the ritual of mourning, Apókryphos considers the physical ways in which human emotions are visualised, experienced and witnessed. As the artist states:
There is an unwritten contract that grief is private, unphotographable. Even in the family album, it is kept hidden. Family albums celebrate our moments of togetherness; birthdays, holidays and weddings as well as ordinary moments of domestic life. But what of death? What of images of grief and loss?
— Cherine Fahd, 2019
This exhibition is accompanied by the Apókryphos publication, featuring texts by Daniel Mudie Cunningham and Cherine Fahd and published by M.33, Melbourne in 2019.
This project has been assisted by the Australian Government through the Australia Council, its arts funding and advisory body.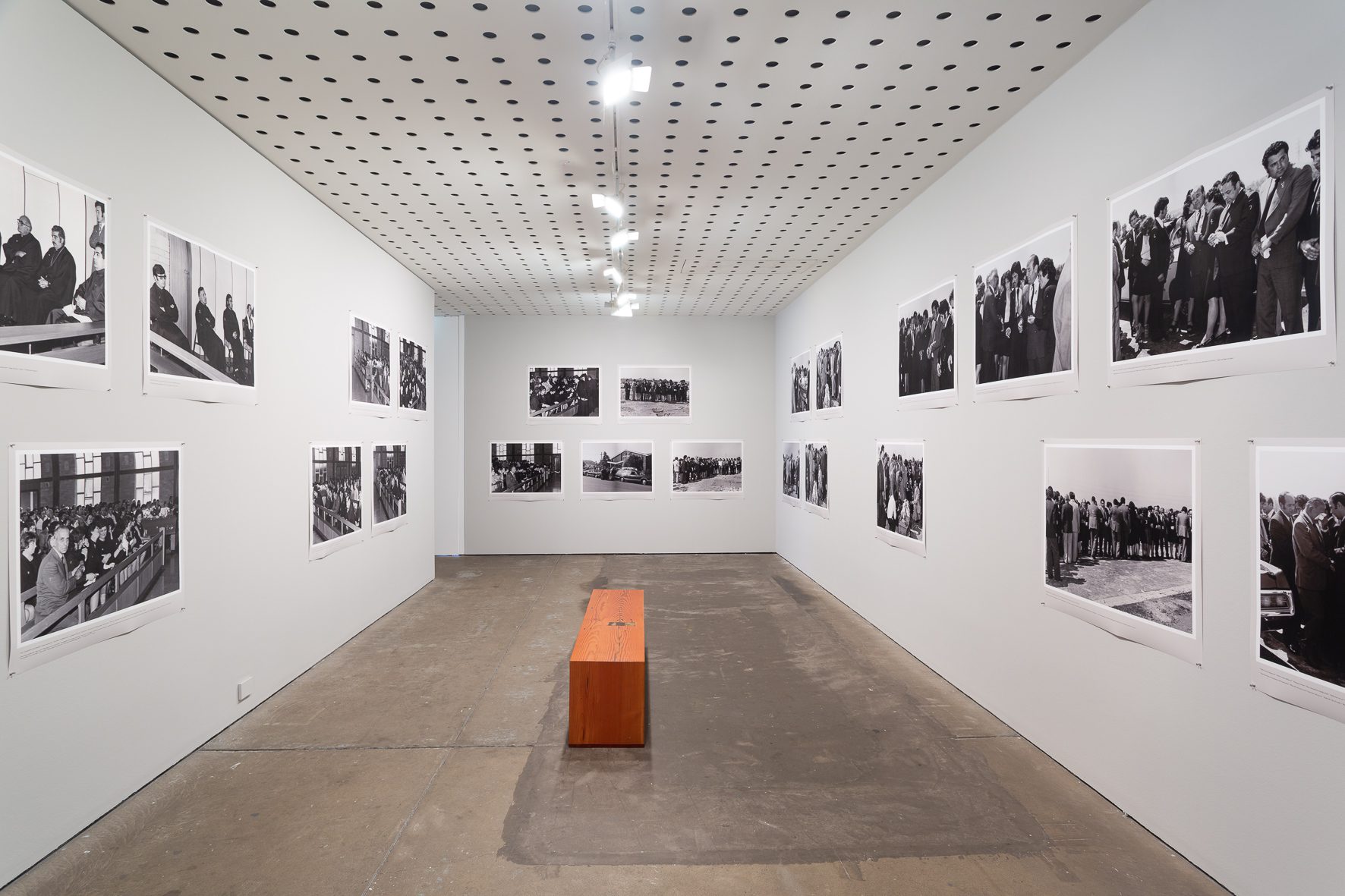 Biography
Cherine Fahd (Born Sydney, 1974) is an artist, academic and writer, and is the Director of Photography at the University of Technology Sydney. Fahd has exhibited extensively at major institutions in Australia and internationally, and has works represented in public collections including the National Gallery of Australia, Art Gallery of New South Wales, National Gallery of Victoria, Museum of Photographic Arts San Diego and the Haifa Museum of Art, Israel.
Fahd has held 28 solo exhibitions since 1997, and has been curated into numerous group shows. Recent exhibitions include On Vulnerability and Doubt, Australian Centre for Contemporary Art, Melbourne (2019); The National 2019: New Australian Art, Carriageworks, Sydney (2019); You Look Like A…, Australian Centre for Photography, Sydney (2018); Hold Still: The Photographic Performance, Art Gallery of New South Wales, Sydney (2018); Athens Photography Festival, Benaki Museum, Athens, Greece (2018); and Street View in Anonym-X: The End of the Privacy Era, Haifa Museum of Art, Israel (2017).
Fahd is the recipient of numerous grants, awards and residencies, including from the Australia Council for the Arts (2018, 2016, 2014, 2007, 2004, 2002, 1999); NSW Women and Arts Fellowship from Arts NSW (2005), Josephine Ulrick and Win Schubert Foundation for the Arts Photography Award (2004), National Photography Prize (2010) and the Moya Dyring Studio from the Art Gallery of New South Wales (2003).
Cherine Fahd recieved a PhD from Monash University in 2016.