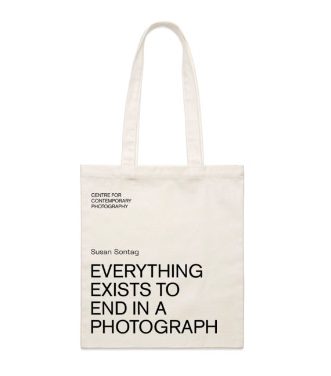 CCP Susan Sontag Small Tote
Order Tote $35 (AUS)
---
To celebrate the 50th anniversary of the publication of Susan Sontag's seminal essay Photography in the 'New York Review of Books', CCP have teamed up with Das T-Shirt Automat to offer two limited edition tote bags celebrating the pure awesomeness of Susan Sontag.
These limited edition tote bags will be available for one month only.
---
Cream only
AS Colour Parcel Tote
Heavyweight 320gsm
100% Cotton canvas
39cm x 35cm
Front cream with printed text, back plain cream
---
Read 'Photography' in the 'New York Review of Books' (Oct 18, 1973).
Read article by Andrew Milne (UWA) published recently in The Conversation – 'Tourists in our own reality: Susan Sontag's Photography at 50' 
---
As a not-for-profit organisation and charity, CCPs proceeds from these sales go directly to support arts workers, to artists to develop new work, and to support our exhibition program.