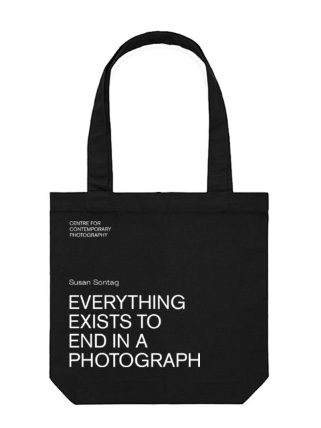 CCP Susan Sontag Large Tote
Order tote $45 (AUS)
---
To celebrate the 50th anniversary of the publication of Susan Sontag's seminal essay Photography in the 'New York Review of Books', CCP have teamed up with Das T-Shirt Automat to offer two limited edition tote bags celebrating the pure awesomeness of Susan Sontag.
These limited edition tote bags will be available for one month only.
Black only
AS Colour Carrie Tote
Heavyweight 320gsm
100% Cotton canvas
42cm x 42cm
Front black with printed text, back plain black
---
Read 'Photography' in the 'New York Review of Books' (Oct 18, 1973).
Read article by Andrew Milne (UWA) published recently in The Conversation – 'Tourists in our own reality: Susan Sontag's Photography at 50' 
---
As a not-for-profit organisation and charity, CCPs proceeds from these sales go directly to support arts workers, to artists to develop new work, and to support our exhibition program.