Fitzroy Art Spaces Tour (FAST) is an initiative designed to give young people a new pathway to explore contemporary art. Evolving out of a creative collaboration between four of Fitzroy's most exciting galleries, the program includes walking tours and a dedicated website.
The Walking Tours
FAST engages and inspires students through a personalised experience with art industry professionals at four Fitzroy galleries: The Centre for Contemporary Photography, Gertrude Glasshouse, Seventh and This Is No Fantasy & Dianne Tanzer Gallery.
A microcosm of the art industry, each gallery offers a unique insight about the sector, from supporting emerging artists through to exhibiting highly established Australian and international practitioners working across contemporary media.
Students discover how these diverse organisations challenge audiences and sustain their operations over time. They are invited to chat informally with a respected group of curators, gallerists and artists about a wide range of practical and philosophical issues related to contemporary art.
FAST is delivered in consultation with registered teachers through support from the Department of Education and Early Childhood Development (DEECD) via its Strategic Partnerships Program (SPP). The program supports the delivery of the Art Industry aspect of the VCE Studio Arts curriculum and was developed in consultation the Victorian Curriculum and Assessment Authority (VCAA).
The Centre for Contemporary Photography acknowledges the support of the Department of Education Training, Victoria, through the Strategic Partnerships Program.
FAST Website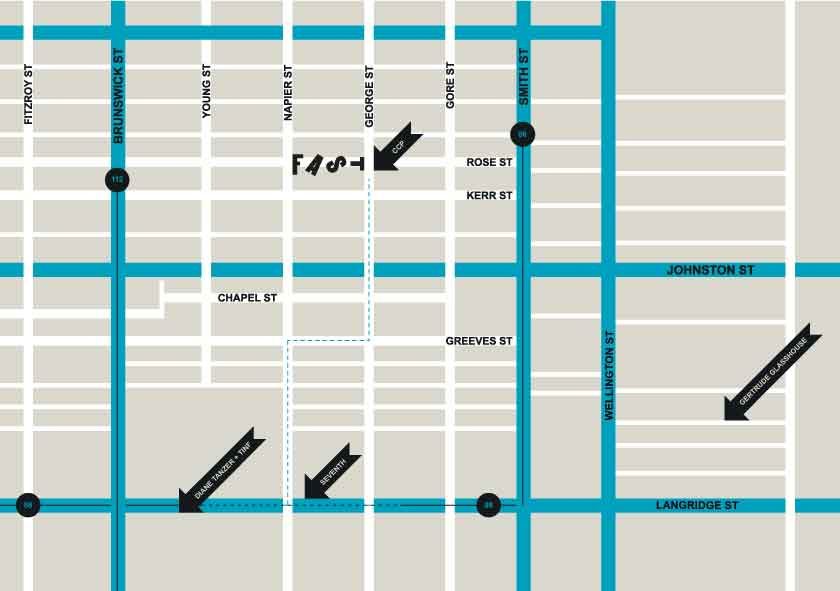 The FAST website is a one stop shop for VCE Studio Arts for students.
Designed especially for Studio Arts students and their teachers, it is also useful tool for anyone looking to learn more about the art industry.
Easy to navigate, it includes:
Interviews with Gallery directors and curators;
Specific, relevant resources for VCA Studio Arts students including curating, conservation and promotion;
Explanations on the key differences between the galleries;
A useful map